Stockholm Furniture and Light Fair has firmly established itself as one of the world's must-see furniture events. Marked in the calendar of international product and interior designers, the takeover is the apex of design and innovation – from cutting-edge office tech to sumptuous sofa designs.
February 2020 marked the fair's 70th year anniversary and it certainly didn't disappoint. Below, we're sharing our five trend highlights that stuck out amid the sea of best-in-class concepts.
The wood through the trees
Renewable, organic and warm; wood has always been a popular choice for building materials – especially in the Scandinavian markets, but we're beginning to see the desire for wood in interiors growing exponentially. 
With biophilia becoming a workplace norm (connecting occupants more closely to nature), wood is an obvious choice. When incorporated with other natural elements such as plants, natural light and sky views; it has a positive physical response on people and wellbeing can be improved.
At the fair, we saw wood integrated into walls and floors for its natural acoustic and noise-reduction properties, and shown the Scandinavian tradition of beautifully crafted oak and ash furniture where the timber offers a timeless, yet homely feel (evident with brands like Pedrali and Skandiform). 
Key Features:
Linear, slatted wood

Warm and textured

Structural and wall construction

Natural accent details

Biomorphic forms and patterns
Increased Mobility & Adaptability
At a talk hosted by Danish architects, Tengbom we found that while modern technology has freed us from the desk, many are wondering where we're to go now. Furniture, tech and lighting designers are attempting to solve the question with solutions that are adaptable and ergonomic. From lightweight, moveable partitioning to adjustable lighting; these integrated spaces can become a vital tool in enabling staff to keep up with the pace of change.
Key Features:
User-controlled
Lightweight
Mobile
Ergonomic
Multifunctional
Community building
A recent study by Global Workplace Analytics estimates that by 2025, 70% of the international workplace will work remotely five days per week. As we move towards this digital world and personal office, companies need to reimagine their workspaces as somewhere that builds brand, loyalty and gathers a sense of community.
But what creates community? Many furniture and interior designers are looking to the hospitality sector for the answer – creating spaces that are inviting, comfortable, and built on a sense of shared values where people want to work. These elements will differ for each company – a law firm and a games app designer will have different priorities – but the design principles are the same.
London-based furniture company, Icons of Denmark created a workplace community that made them a popular destination at the fair. Towards the end of the day, we were feeling a little glazed from looking at furniture so it was great to find an exhibition stand that uniquely engaged its visitors – offering the spectrum of elegantly designed furniture needed in the modern office.
Turning the mundane question of "how is work?" on its head, Icons asked us to consider our answers on a meaningful level. We particularly enjoyed adding our own post-it notes to their "how is work?" wall. For an international fair, it's reassuring to see how similar many of us feel about work.
Key Features:
Collaborative environments
Warm and welcoming
Transitions between indoor-outdoor
Soft and plush elements
Home-styled fixtures
Finding the Quiet
We've spoken about community, but this needs to be balanced with a workplace strategy that considers privacy. On the one hand, you'll want spaces that employees can gather and collaborate – after all, this is where innovation happens. On the other, staff require quiet spaces where they can effectively work without distraction. So how are companies joining these two provisions?
The answer is in nurturing the individual. Giving employees the choice and control over how they work and creating the right ecosystem in your workplace in order to do that. By zoning spaces that are underused or unused and converting them into areas that support privacy. The spaces then become destinations where people can go to seek out a more private experience.
Italian furniture brand Arper was a great example of this trend. With limited floorspace, they made excellent use of it with sculptural partitioning that felt warm and inviting (rather than the dreaded 'claustrophobic cubicle'). Employing their concept of "Soft(er)," their furniture pieces used fluid lines, soft textures and warm pastels that open up spaces whilst creating private areas. We also loved the slim profile of the Juno Eco chair – highly stackable and easily mobile, it's perfect for high-churn meeting spaces.
Key Features:
Private booths, pods and partitioning
Acoustic panelling and sound absorbers
Mobile furniture
Neighbourhood areas
Bookable spaces
Sussing Out Sustainability
Sustainability is a topic that's been an element of interior design for a long time. However, recently, it's become a deal-breaker for attracting and retaining staff. A 2018 study by HP found that 46% of their potential hires would only work for companies with sustainable business practices.
61% of those surveyed believe business sustainability is essential for any company
HP, Recruitment & Retention Research (2018)
Fundamentally, sustainable design is the integration of recycled, sustainably sourced, and green building materials into a workplace. It emphasises energy efficiencies, environmental conservation and compliance to establish a more cooperative connection between nature, people and the building.
Many accredited bodies offer certification on these fronts – SKA and BREEAM leading the environmental side, and WELL and the Living Building Challenge for wellbeing and people. The common thread between these bodies is a substantial focus on creating a positive impact on occupants outside and inside workplaces.
This was apparent with Scandinavian furniture company, Flokk. Working alongside London-based design duo Hunting & Narud, their concept demonstrated the primary raw materials that constitute their products, such as wood, wool, aluminium and steel. Their clear presentation of materials placed beside their finished products was an excellent way of showing the purity of their design process.
Key Features:
Minimally processed materials
Natural woods and stone features
Low VOC (volatile organic compounds) materials
High-design green spaces
Workspace utilisation technologies
Natural lighting
Favourite spaces: Bolon
Despite being always underfoot, we often take flooring for granted. This year, Bolon made their solutions our central focus, lifting their brand and materials onto the walls within a Dali-esque maze.
Working with NY architectural practice, Snarkitecture, Bolon created a series of galleries demonstrating the features and benefits of their woven vinyl flooring (durability, cleanability, sustainability). The sheer effort in designing the space was compelling, both artistic and thoughtful of the user experience in making us "lose ourselves" in the brand.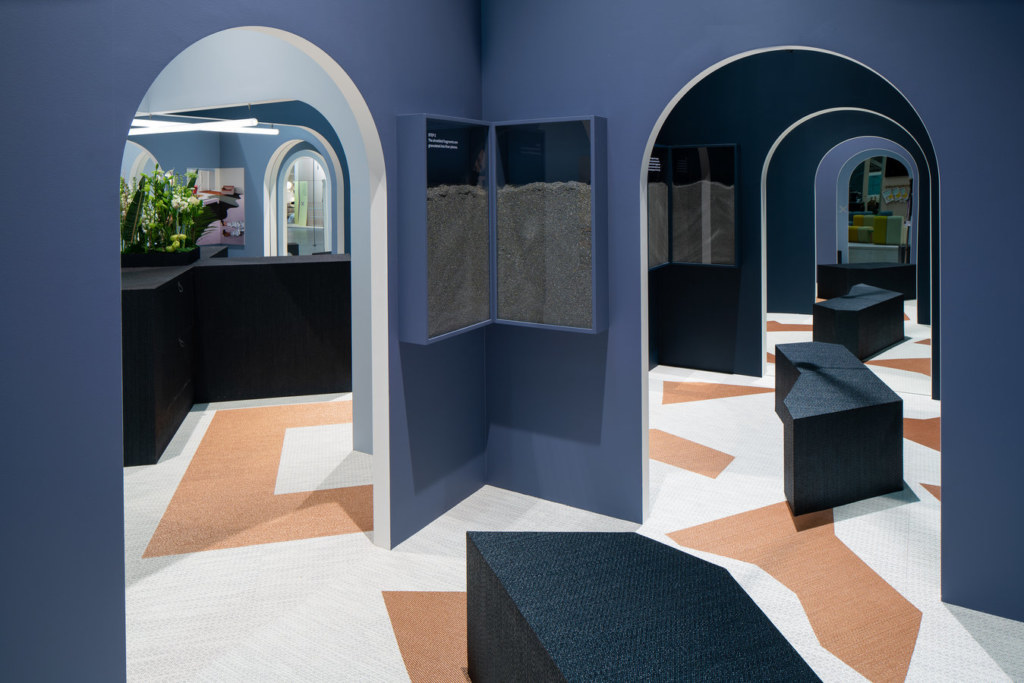 And that's a wrap! Thanks for reading and if you'd like to find out the latest on products and design trends shaping the modern workplace, we'd love to hear from you!